two days carving meeting in south Poland
CARVE CAMP TOUR 2020

Carve Camp #1 11-12.01.2020 Długa Polana
Carve Camp #2 25-26.01.2020 Długa Polana
Carve Camp #3 15-16.02.2020 Konary
Carve Camp #4 29.02-01.03.2020 Długa Polana
Carve Camp #5 14-15.03.2020 Długa Polana


How to join us?: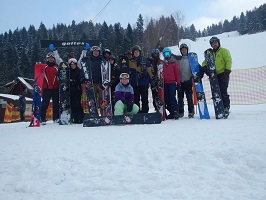 It's easy. Just send email to info@shaman-snowboard.pl topic Carve Camp Tour 19 and fill form above.

Please do so, at latest one week before Camp. Number of places in each group is limited.

Camp plan:
- Two or three training sessions (saturday morning and evening, synday morning)
- Evening videocoaching
- Fun - non stop:)

PRICE:
total price: 130EUR

Prace includes:
- two days accomodation (friday/saturday with beakfast and dinner/supper, saturday/sunday only breakfast)
- two days skipass (saturday - sunday)
- 2-3 training sessions (2xsaturday, 1xsunday)


How the camp looks like?

Friday is arrival day. We are waiting for all to arrive ta place. It take some time, because we are comming form nearly entire poland... Meanwhile wa are doing "equipment chesk" and service.
We start on saturday approx 9:00. Warm up, few free rides and we are starting with training. Some of us will be training race technique on gates, some of us "free" carving ride.
Approx 12:00 we are starting to film our ride, foir eveing videocoaching. Then brake for lunch, and second training session.
After comming back, we have some time for shower and rest, and then, before supper, we are doing equipment service (sharp of edge, wax the base etc). After dinner we start videocoaching, which is one of most important part of camp. It takes some time... ;)
Sunday loooks simmilar but at 12:00 wa are doing some photoshooting, instead of filming. We end trainng approx 13:00-14:00.



Snowboarding skill level

We are not typical school. We are carving/race team, so our main goal is base carving, on-egde ride. We are not good place to start snowboarding. We do not have rsources for it. So if you want to start your snowboard adventure, please start with any snowbards school. When you learn how to slidem, and perform rotation slide turns, so normally after 2-6 hours of learning, it is best moment to join us. We will show our vision of snowboarding, and how to achieve level of skill when you fill pleassure of playing with centrifical force during every turn ;)

The same with skis. We have no deidcated ski gorup. But if you can ride, and you want to learn on-egde carving, we will help.

Training groups

Mainly there are two groups:
- Alpine snowboarding - dedicated for softboot and hardboot riders that are beginning afventure with carving snowboarding
- Race snowboarding - group for experienced riders, like students that wan to trainf before Acadamic Polish Campionships, or carvers that wan to improve their skills.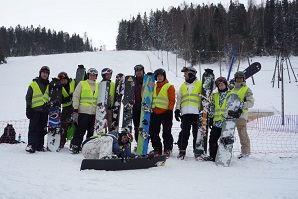 Equipment

We have some test equipment, but it is "TEST" not "Rental" equipment. Of course if you have equipment problems, we will help. Minimum equipmet that you need to have are boots, helmet and clothing ;)
If you are renting, or buying snowboard, please search for directional board, with camber construction and stance less than 50cm. Freestyle twion-tip boards with 60cm stance are not good solution for carving. Also boards with rocker construction, or stragne american things like Never Summer or Lib Tech with strange hybrid constructikon and magne traction edge shape will not help in carving, so try to avoid such solutions.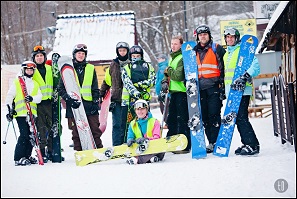 Want to try hardboot snowboarding?

That is what for we are existing ;) We have test hardboot gear like bindings, plates and boards but we have no hardboots. If you want to try hard snowboarding, you need your own. It is quite possible that you will used hardboots on internet for 25EUR ;) If you want to try, email us. We will try to help.

Carpooling

We are going form Krakow. If you have no trnsport, just email. For one person, almost always we will find place ;) If you are from another part of country, also please email us. Maybe someone is driving from your city...




Facebook gallery form previous camps

ARCHIWUM 2017